Augusto Poderosi is an artist from Rome with multiple sides and facets, which are precious not only from a technical point of view but also expressive. His wide spiritual and artistic contents are proved by its several international exhibitions and cinematographic projects. He is a restorer, art conservator and artist, as well as actor in movies realized by well-known and influential directors such as Federico Fellini, Bolognini, Damiani, Tony Scott (just to cite a few of them).
The main theme of its expressive excursus is a constant introspective and spiritural research, which is made possible via a symbolic and powerful element: the light. Augusto Poderosi was early identified for his talent and creative originality, not only by the public and press but also from the critics and many influential and well known institutional figures, whom commissioned him several restorations. As an example, the portals of the "Basilica Papale di San Paolo" (the portals of the Papal Basilic of San Paolo). Then, many more art works which are found today at the "Basilica di San Paolo" in Rome and "Basilica di S. Antonio da Padova" in Padua.
"Surely the diversification from my artistic experiences have made me eclectic: I see no differences between painting, sculpture or anything else, since my real interest is immaterial.
I am attracted to the Light as much as a moth, this means that I am attracted to other dimensions and my artistic experience is my will to travel to other planes that I want to share through my art. There are materials that appeal to my instincts, such as glass and metal, due to their alchemical fusion and transformation processes. Another point that I would like to highlight is my desire to narrate what derives from the cinematographic narration. As an example, I could mention my last paintings of the series entitled "The Infinite Stories", which is composed by twelve artworks that shows the invisible word of our id, the part of the human being that is unconscious and is the source of all mental energy. These twelve stories want to mend the magical world of our imagination in the process of cancellation induced by the media. I cannot give a specific name to my artistic style since it is the unconscious result of living life as if it was an artistic gift that must be preserved and glorified." – Augusto Poderosi
"As far as I am concerned artists are born, not made. I was born an artist and I will die an artist. Since I was a kid, I used to study through drawings and paintings, I studied every school subject in my own way. I firstly discovered I was an artist because others called me that, I was too young to label myself."
–– Augusto Poderosi during the interview with Aurora India
"I kept on focusing art and I studied at the Art Institute. After that I experienced working at workshops of goldsmith, mosaic, Roman stucco etc. But the true epiphany that made me realize I actually was an Artist was a promise I made to my beloved father right before he passed away. Afterwards I started working at the Cinecittà Studios in the scenography workshops, in which I met Federico Fellini for the first time. He proposed me to be the co-protagonist for the film "Ginger and Fred". It was a super cool experience! At a later time, I acted in many other films and I understood the power of Art. It can change ourselves and the whole world. I found myself dedicating to cinema, contemporary art and holy art. Thanks to the latter I discovered that even "desecrating" art can be "sacred" if there is beauty. To be an artist you need a specific strength of mind that others usually call "madness". It is necessary for the artist to make compromises with their inner demons and fight them. Moreover, society wants individuals to homologate, that's why artists often have a row with society itself. I found myself having an art studio in the Papal Basilica of San. Paolo. There I obtained my first important commissions of Sacred Art and restorations for the Holy See and the Ministry of Cultural Heritage. I studied Sacred Art at the Pontifical Benedictine University of Sant'Anselmo where I learned secret information that I keep in my heart." – Augusto Poderosi
It is in 2008 (thanks to BIMAC) that one of its art exhibitions surprises and induces multiple universal and intimate reflections for the eloquent languages of what is sacred: "Corpo di Luce" (Body of light). The artistic installation was placed in the same site of the Moses (Michelangelo), where no other art piece was allowed before. "Corpo di luce" is composed of a corpus (body) of artworks which is an "unicum", which envelops the evanescing essence and highly spiritual, in a continuous research of the man towards the divine light.
Glass artworks like transparent alembic still of a demiurge, which distillates elected essences inside, made visible but invisible, metaphorically and metaphysically because "substance of light".
"If there was freedom in this world, it would be full of artists creating their own life, in which beauty would simply be the art of living together in love with everything and everyone around us."
–– Augusto Poderosi during the interview with Aurora India
In Augusto Poderosi's canvas we can admire eyes of fire that burn with ardour and spectator moons that envelop with melancholy and mysteries. The artist paints blues and reds that become eloquent expressive languages, which seem actors who scream "silent screams".
Who looks at his artworks is influenced by intense and profound gazes that deal with love, pain, death and rebirth. Moreover, there is the representation of the metamorphosis of flowers and butterfly women, of men, snakes or hawks … in each of them the theme of catharsis is present. Particularly iconic is the figure of the man who becomes a hawk and flies free. He aims to reach his dreams, in which passion can nullify reason.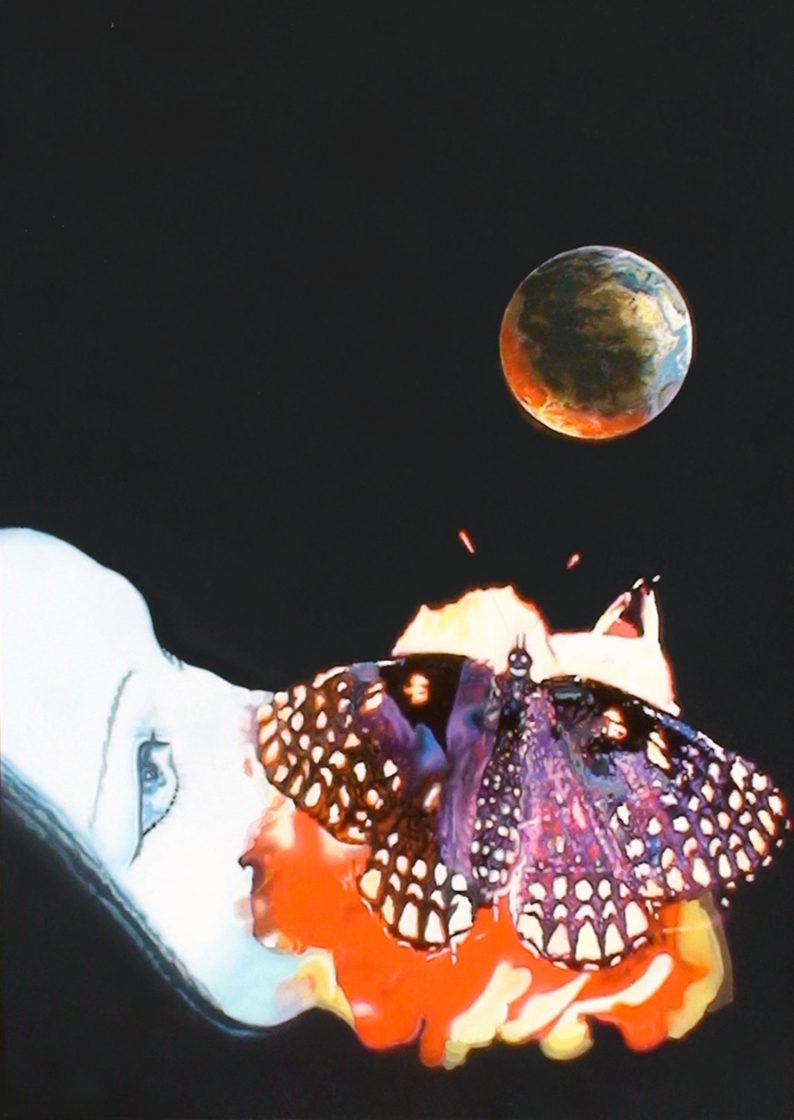 "My creative process is attracted to sacred geometry, in which anyone can find anything and any shape. When I make an artwork I do not "create" it, since only the Divine can do that. I try to discover what the unknown suggests me, visualizing with my emotions what it wants to teach me. Art is a lesson that the artist is taught and that must be shared with the audience. This is the reason why all kinds of art are holy."
–– Augusto Poderosi during the interview with Aurora India
"To be honest, traditional school is not my cup of tea. I have always needed to experience art directly to achieve my goals. This made me realize that art was my path and I had to follow it. I had the opportunity to experiment with severe different types of materials and it taught me the ability to solve creative problems. I am constant and devoted to my art also because I've always made a living from it. 
It is also important to say that I learned to experiment by improvising with nothing. I remember that once I entered the Basilica of San. Pietro in Vincoli in Rome I admired Michelangelo's Moses. Afterwards – as a complete stranger – I set up my first installation right under Michelangelo's Moses; "It was a miracle" that no artist had yet managed to do. The strange thing is that I wasn't the one who decided it, but then… who did that?" – Augusto Poderosi
Texts written by Francesca Mezzatesta and Aurora India.